Admin on August 22nd, 2014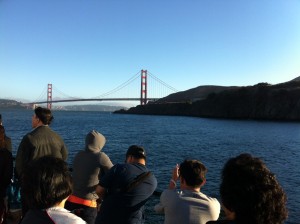 Score  U.S.C.G. Certified Captain Maggie McDonogh's "insider's guide" to Tiburon, Calif., the ultimate "stay & play" romantic getaway on San Francisco Bay. Discover where Tiburon locals go for the best "farm-to-table" cuisine, check out Tiburon's hot-spots for sipping cocktails bayside…and get Captain Maggie's 411 on places to stay after a day of fun in the sun – in Tiburon, Calif.
While you may never want to leave Tiburon's magical "away from everything draw," you will want to plan to spend plenty of time on the Tiburon Peninsula in order to explore Tiburon's fairytale "walk everywhere" historic bayside community with one of a kind shops, chic cafes and award winning restaurants to please every palate.
.
So where do Tiburon locals eat?
Get into the Tiburon "local scene" by enjoying alfresco wine-ing & dining at local Tiburon hot-spots on the tip of the Tiburon Peninsula with indoor/outdoor seating such as:
Where to "Play" in Tiburon, California:
Where to "Stay" in Tiburon, California:
Lodge At Tiburon – Lodging "Nestled at the tip of the scenic Tiburon Peninsula on the San Francisco Bay." Also home to the Tiburon Tavern mentioned above.
Water's Edge Hotel – "Tiburon's only waterfront hotel" with a "walk everywhere" location a stones throw away from award winning dining and next door to the Angel Island Tiburon Ferry dock.
For more information on Tiburon California please also visit:
Keep the conversation going…connect with us on Twitter and Facebook, and feel free to call us @415.435.2131 or email us at aiferry@angelislandferry.com if we can be of service in any way or to plan your next getaway on San Francisco Bay with us!
U.S.C.G. Certified Captain Maggie McDonogh is the president & CEO of Angel Island Tiburon Ferry Co., and has recently been named the Tiburon Chamber of Commerce's "2014 Tiburon Peninsula's Business Citizen of the Year."
Tags: Angel Island, Angel Island State Park, Captain Maggie, Destination dining, FNOM, FNOM Tiburon, Friday nights on main Tiburon, Lodge at Tiburon, Luna Blu Tiburon, Maggie McDonogh, Sam's Anchor Cafe, Sam's Tiburon, san francisco sunset cruise, san francisco sunset cruises, Servinos, Tiburon, Tiburon California, Tiburon cruises, Tiburon Ferry, Tiburon ferry schedule, Tiburon Peninsula, Tiburon Sunset Cruises, Tiburon Tavern, Town of Tiburon