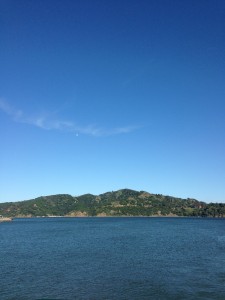 Plan your Labor Day Weekend BBQ in Paradise!  Captain Maggie McDonogh says, "You don't need to go far to enjoy a 'Baycation' this Labor Day Weekend…discover adventure, fun and that 'getaway feeling' right in your own backyard with an Angel Island Tiburon Ferry to Angel Island State Park in the middle of San Francisco Bay."
Special Holiday Ferry Schedule – we're running hourly Saturday – Monday, Labor Day – click here for our Tiburon Ferry schedule and "Take a ride with us!"
Check out our 2014 "Baycation" overview of events on San Francisco Bay: Angel Island Tiburon Ferry Sunset Cruises on Friday & Saturday evenings – now you can book online! Book Online!
Day Tripping:  Plan your "Baycation"getaway on San Francisco Bay with Angel Island Tiburon Ferry – offering the most direct, non-stop ferry rides to Angel Island State Park. For Angel Island Tiburon Ferry's current ferry schedule click here. How to enjoy your "Baycation" like an "Angel Island Ferry Insider:" If adventure is your game, Angel Island State Park is your destination for fun and exciting outdoor activities.  Nature lovers and photographers will find plenty of  photo ops – as well as revel over the amazing natural beauty to discover when spending the day on Angel Island the "Jewel of San Francisco Bay."
"Getaway without going away" with a ride on the Angel Island Tiburon Ferry. That's right. You're invited to sit back and relax as Angel Island Tiburon Ferry's scenic 10-miniute ferry ride transports you to Angel Island State Park – the perfect venue for your Labor Day Weekend family picnic or BBQ – with charcoal BBQ's for public use near Ayala Cover.
Angel Island is your "close to home getaway" for whatever outdoor activities you're into such as:
Hiking (Appropriate for all skill levels)
Biking (Bring your own bike on the ferry for just a $1.00 or rent on the island)
White Sandy beaches with million dollar views of the San Francisco skyline & the Gold Gate Bridge
Boating…and  even camping overnight.
Click here to read more about Angel Island State Park's  white sandy Beaches such as  Ayala Cove (pictured above), which is the most kid-friendly beach on the island, as it is the easiest to get to with small children.  Additional Angel Island Beaches – some with amazing views of the San Francisco Skyline and the Golden Gate Bridge can be accessed by foot to include:
Perles Beach
Quarry Beach
Camp Reynolds Beach
China Cove
Access to some of the beaches may be limited at times, so do pick up a map at the Visitors Center located near the dock at Ayala Cove when you arrive, and ask about any beach and trail closures and/or updates. We've made getting away to your paradise island a breeze ~ with our "Angel Island Getaway Guide" below: Angel Island Tiburon Ferry Schedule to Angel Island "At a Glance" Where to Eat: There are a number of fantastic spots on Angel Island to enjoy a picnic, and as mentioned above, Charcoal BBQ grills are located near Ayala Cove (BYO charcoal and food to cook)
PS:  You can also pre-order delicious box lunches from Angel Island Cafe here.
Paradise Island Getaway Essentials ~ What to Bring:
Spending money
Sunscreen
A broad rimmed hat or visor
sunglasses
Water and snacks
Blanket or beach chairs to sit on
Swimsuit and towels
Keep in mind, the weather can change at any time so dress in layers.
Feel free to give us a call @ 415.435.2131 with any questions you may have, and let us know if there is anything we can do to help you plan and enjoy your Summer 2014 "Baycation" on San Francisco Bay…with us! ~ Captain Maggie Current round trip fares between Tiburon and Angel Island (includes Angel Island State Park Admissions Fee):
| | | |
| --- | --- | --- |
| Adults (ages 13 and over) | | $13.50 |
| Children (ages 6 – 12) | | $11.50 |
| Small Children (ages 3 – 5) | | $3.50 |
| Toddlers (ages 2 and under) | | Free* |
| Bicycles/Beach Chairs (Bike rentals are available on the Island seasonally). | | $1.00 |
Directions to the Angel Island Tiburon Ferry, CA Where to park in Tiburon:

Tags: #LaborDayWeekend, Angel Island, Angel Island Ferry, Angel Island State Park, Angel Island Tiburon Ferry, bay area, bay area beaches, bay area getaways, Bay Area Getaways 2014, bay area hiking trails, Baycation, Baycations San Francisco, best bay area day trips, labor day weekend, northern ca beaches, SanFrancisco getaways, SF bay cruises, Spring Break 2014, Staycation, Summer, summer activities 2014, sunset cruises san francisco, things to do in the summer Marin county, Tiburon Ferry, Tiburon ferry schedule, what to do on angel island