Isn't time you get to know Angel Island…again.  Sure you may have visited this unique island in the middle of San Francisco Bay in the past, yet, if you haven't been to Angel Island state Park lately – you're missing out on all the fun this historic Bay Area landmark and adventure destination offers.
Angel Island Tiburon Ferry's Early Spring Ferry Schedule: In addition to running round-trip ferry service from Tiburon, CA to Angel Island State Park every weekend at 10 a.m., 11 a.m., 1 p.m., and 3 p.m. in February, Angel Island Tiburon Ferry is also providing the the following ferry transportation schedule on President's Day – Monday, February 18, 2013:
Depart Tiburon: 10:00, 11:00, 1:00, 3:00
Depart Angel Island: 10:20, 11:20, 1:20, 3:30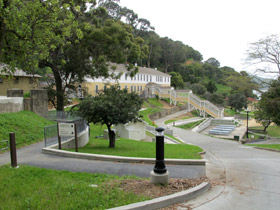 Good News: The U.S Immigration Station located on Angel Island State Park and the Cove Cafe are OPEN on Weekends!
Spring is the perfect time of year to getaway to Angel Island State Park where you can hike, bike, visit one of Angel Island's unique beaches, take a tram tour or just kick back and relax with a BBQ in Ayala Cove.
Check out Captain Maggie's 60 sec video below for some great ideas on how to enjoy your Angel Island Getaway:
Tags: Angel Island, Angel Island Ferry, Angel Island Immigration Station Foundation, Angel Island State Park, Angel Island Tiburon Ferry, Bay Area 'Day Trips, Bay Cruise, Bay Cruises, Captain Maggie McDonogh, Maggie McDonogh, President's Day 2013, Tiburon Ferry, Tiburon ferry schedule