Those are birds in this picture (not planes!)
Combine the thrill of bein

g on top of the world with the awe of watching the Blue Angels Fleet Week Air Show from the top of Angel Island's Mt. Livermore and you've got one incredible experience on SF Bay in the making.
Blue Angels Fleet Week Air Shows takes place from 12:30 pm – 4 pm on Saturday 10/6/2012 and 12:30 – 4 pm Sunday, October 7, 2012.
Where to See the Show:  The top of Angel Island State Park's Mt. Livermore is without a doubt one of the best places to catch the Blue Angels Fleet Week Air Show.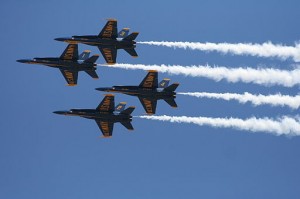 Climb it.  This "moderate level" hike to the top of Angel Island is approximately 2 1/2 hours round trip, and offers a few great places to stop along the way to enjoy a picnic while taking in breathtaking views of San Francisco Skyline, SF Bay, and Bay Area bridges.  Be sure to bring your camera to capture snaps of the Island's indigenous wildlife, plants, and of course – the incredible 360 degree views from the middle of San Francisco Bay and the Blue Angels in Flight.
Park it:  Before heading up the mountain – be sure to plan a visit to the
Cove Cafe And Cantina
– a dynamite waterfront foodie destination on Angel Island.  Savor a relaxing glass of wine  and enjoy  one of their fabulous sandwiches or specialty salads  - which can all be taken to-go as well.
To get there – Angel Island Tiburon Ferry runs numerous roundtrip ferry rides from Tibuorn to Angel Island daily and on weekends.  For daily round-trip ferry schedules please visit: AngelIslandFerry.com.
BONUS:  Bring your bike on the Angel Island Tiburon Ferry for just 1 buck!
Tags: Angel Island Ferry, Angel Island State Park, Bay Area hiking ideas, Bay Cruise, Bay Cruises, blue angels, blue angels 2012, Blue Angels cruise, blue angels fleet week air show, ferry rides sf, fleet week 2012, fleet week air show, hiking in Bay Area, Maggie McDonogh, Mt. Livermore, san fran day drips, sunset cruise, Tiburon, Tiburon Ferry, where to watch blue angels show