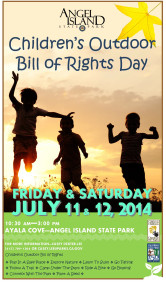 Taking place Friday & Saturday July 11 & 12, 2014 – Angel Island State Park invites the public to celebrate "Children's Outdoor Bill of Rights Day" from 10:30 a.m. – 3:00 p.m. with the goal to "c
atch a fish, camp under the stars, discover California's rich past on Angel Island State Park…and much more.
These are just a few of the fun, outdoor activities visitors can experience on Angel Island to celebrate "California Children's Outdoor Bill of Rights Day."
Outlined in a July 2 press announcement, California State Parks along with the Children in Nature Campaign believe there are 10 things that kids should do before they grow up.  Angel Island State Park is providing the opportunity to accomplish them all FREE on Friday and Saturday, July 11th & 12.th

.

Most appropriate for children ages 5 – 14 years old, event attendees with have the opportunity to:
Follow a trail

Explore the Alma and vessels from the Traditional Small Craft Association

Plant a seed

Go fishing…and much more during this free family friendly event.
If you have a bike or fishing pole bring it along…
.
Getting there is half the fun…and "
We Get You There."™
Angel Island Tiburon Ferry
provides nonstop ferry service to Angel Island State Park via our Main Street dock in Tiburon, Calif., offering the quickest, most direct route with the most non-stops ferries to Angel Island State Park available in the Bay Area.
California Children's Outdoor Bill of Rights (in a nutshell): By the end of his or her 14th year, all California children should have had the opportunity to experience each of the following activities listed with the California Children's Outdoor Bill of Rights: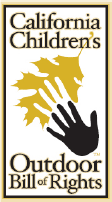 Discover California's Past
Explore nature
Splash in the water
Learn to swim
Play in a safe place
Play on a team
Catch a fish
Camp under the stars
Follow a trail
Celebrate their Heritage
Here's the best part… Angel Island Park staff and volunteers are making it possible to complete all of the Bill of Rights above in one day!  Angel Island State Park's press release reports:
"…Park staff and volunteers will have stations setup that will allow park visitors to do all of their Bill of Rights in one day whether it's learning to fish or camping under the stars. Families will be treated to storytelling, seed planting activities, trail walks, s'more-making, and more!"
As outlined on parks.ca.gov – The Mission of The California Children's Outdoor Bill of Rights is:
"To encourage California's children to participate in outdoor activities and discover their heritage. "
"The Reason" for this initiative is based on the fact that "Numerous studies have shown that children who participate in outdoor activities are healthier, do better in school, have better social skills and self-image, and lead more fulfilled lives."
Of course, with a destination like Angel Island State Park in the picture, there are unlimited opportunities to make the fun activities outlined in the "California Children's Outdoor Bill of Rights Day" part of a healthy lifestyle for the whole family to enjoy for many years to come.
For more information on this event please call 415.789-1384.
Please call Angel Island State Park directly @ (415) 435-5390 for more information on camping  facilities.
So come on, now is the time to check off your list of California Children's Outdoor Bill of Rights on Angel Island State Park…and take a ride with us ~ Captain Maggie
You may also like: