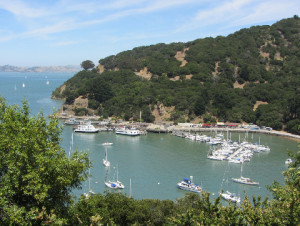 Angel Island Ferry's Captain Maggie & Crew invite you to experience the change of seasons on Angel Island ~ "Jewel of San Francisco Bay".
Immerse yourself in nature
On Angel Island, the change of seasons brings a new crispness to the air, as island foliage takes on an extra lushness and sparkle from the fresh morning mist. And while there are many fun activities also waiting for you on Angel Island, taking in the natural beauty of Angel Island State Park during the Fall and Winter months is a great reason to plan a trip.
"Spending time in the beautiful outdoors on the weekends is a great way to decompress and unwind after a busy week…we all need to relax and enjoy a little down time". ~ Captain Maggie McDonogh
Outdoor activities available on Angel Island State Park
Hiking – Angel Island offers hiking trails appropriate for all skill levels

Biking (Bring your own bike on the ferry for just a $1.00 or rent on the island)

White Sandy beaches with million dollar views of the San Francisco skyline & the Gold Gate Bridge

Boating, camping overnight…and much more!
Please visit the Angel Island Conservancy website for a great overview of what there is to do and see on Angel Island State Park – including historic sites to visit.
Angel Island Ferry Fall/Winter ferry schedule updates
Angel Island – Tiburon Ferry offers year-round weekend ferry service to Angel Island State Park, with ferry service to Angel Island on weekdays March through October.
Getting there is half the fun
At Angel Island Ferry, we hear it time and time again, when it comes to embarking on a day-trip to Angel Island, "The ferry over from Tiburon is half the fun!" Please visit our Angel Island – Tiburon Ferry Holiday & Schedule page for a complete overview of our year-round and holiday ferry service, which includes ferry service on Monday, Nov. 11, 2019 -Veterans Day.
Mark your calendars!
While we are closed Thanksgiving Day, Angel Island Ferry will be running the following Holiday Schedule on Thanksgiving Weekend – Including Friday, Nov. 29, 2019 – The Day After Thanksgiving:
Depart Tiburon:
10:00 a.m., 11:00 a.m., 1:00 p.m., 3:00 p.m.
Depart Angel Island:
10:20 a.m., 11:20 a.m., 1:20 p.m., 3:30 p.m.
For more information on Angel Island – Tiburon Ferry please visit our main site at:

AngelIslandFerry.com

.
Thanksgiving Table Photo Credit: By dnak – https://www.flickr.com/photos/38891581@N00/8287083648/, CC BY 2.0, https://commons.wikimedia.org/w/index.php?curid=33784762