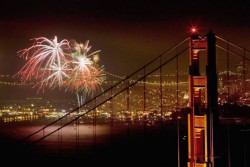 THANKS FOR ALL YOUR RESPONSES – THIS EVENT IS SOLD OUT.
Please check out a few of the ongoing events and expereinces waiting for you on San Francisco Bay below:
Experience an Angel Island Ferry Sunset Cruise this weekend.
Want a little adventure with your beach-day?  "Get that getaway feeling without going away" with a day-trip to Angel Island State Park
Celebrate July 4th 2012 on a Paradise Island with Live Music, Dancing, Great Food, and a Sense of Adventure on San Francisco Bay.
NEW!  This 4th of July, watch the annual fireworks show from the unique vantage point of Angel Island State Park.
Wednesday, July 4, 2012:   6 p.m. – 11 p.m
Event Highlights/Details:
6 p.m Angel Island Tiburon Ferry ride to Ayala Cove, Angel Island (Boarding starts 5:45 pm)
Pre-show:  Enjoy FREE Live music and dancing, with delicious food, wine, beer, and beverages available at Cove Cafe and Cantina in Ayala Cove.
(You are also welcome to bring your own food and drinks to enjoy during the show).
8:15 p.m: Tram ride provided to  Battery Ledyard – Fireworks Show View Point
9:30 p.m. :  Fireworks Show will start (approximate time)
Return Trams to Ayala Cove begin approximately 9:50 p.m
Cove Cafe will be open after the show offering hot cocoa and snacks until 11 p.m.
Angel Island Ferry will pick you up for your return ferry ride back to Tiburon, CA at 11 p.m.
Price of each ticket includes: Roundtrip ferry service to Angel Island State Park from Tiburon dock, Entrance fee to Angel Island State Park, Round-trip Tram ride to San Francisco city skyline facing side of  Angel Island to watch the fireworks.
Ticket Prices: $20.00 Ages 13 and up, $18.00 ages 6 – 12, $10.00 ages 3 – 5
Reserve your tickets via credit card by calling 415.435.2131 or email aiferryAngelIslandFerry.com for more information today.
PS:  Bring a warm jacket, blanket to sit on, flashlight, etc.
Click here for information on Angel Island Tiburon Ferry's July 4 Fireworks Cruise