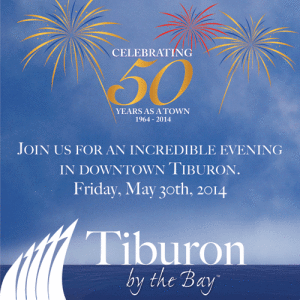 The Town of Tiburon is going all out on Friday, May 30, 2014 to celebrate their 50th Anniversary with an incredible evening of live music, food, fun and…
May 30, 2014:  Get onboard the Angel Island Tiburon Ferry's Fireworks Cruise on San Francisco Bay
Here's your invitation to join Captain Maggie McDonogh & the Angel Island Tiburon Ferry aboard the "Angel Island Ferry" to take in the spectacular fireworks extravaganza taking place along the Tiburon shoreline in celebration of the Town of Tiburon turning 50!
Experience the fireworks fun, magic and thrills from the middle of San Francisco Bay with Angel Island Tiburon Ferry.
Tickets are just $10.00 and can be purchased online here!
Details on the May, 30, 2014 Town of Tiburon's  50th Anniversary Party by the Bay Event
Please dress warm as the weather can be unpredictable.

A CASH ONLY bar will available

on-board

Hop on an Angel Island Tiburon Ferry Sunset Cruise for just $20.00 a person …and stay onboard for the fMay 30 Tiburon Anniversary Fireworks Cruise for just $10.00 per person!
Parking Info:
Paid parking is available in the lots shown below.

Contact us via email or with questions or requests here
Follow us on Twitter @AITFerry & Facebook to stay up on what's happening on San Francisco Bay…and "Take a ride with us!"