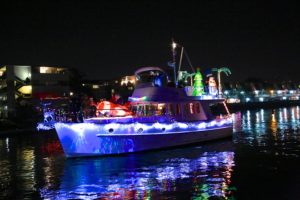 Add premier holiday sparkle to the season with an Angel Island Ferry SF Lights Holiday Lighted Boat Parade Cruise.
Get on board Angel Island Ferry Friday, Dec. 14, 2018 for the excitement and sights of SF Lights – the oldest and largest lighted holiday boat parade on San Francisco Bay. Presented by The Fisherman's Wharf Community Benefit District and the St. Francis Yacht Club, this is one holiday lights cruise you won't want to miss! 
Be where the SF Lights action is with Angel Island Ferry
Your SF Lights Cruise experience begins at the Angel Island – Tiburon Ferry Terminal in Tiburon, California, on our luxury charter vessel the Tamalpais.  We'll then cruise you to San Francisco where we'll ride alongside the parade for an amazing holiday cruise experience on San Francisco Bay.
When: Friday, Dec. 14, 2018: 5 p.m. – 9 p.m.
Departure time is 5:00 p.m. – Please be at the dock by 4:30 p.m., boarding begins at 4:45 p.m.
"SF Lights" Event begins: 6:00pmReturn to dock after show: approximately 9 p.m.
Tickets are $75.00 per person.For more information call 415.435.2131.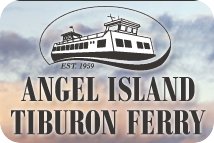 Holiday Cruise Drink Menu
~ Cozy up with one of our specialty drinks available for purchase ~
Irish Coffee ~ Coffee & Irish Whiskey topped with whipped cream
Kahlua Coffee ~ Coffee, Kahlua liquor & half & half with whipped cream
Baileys Coffee ~ Coffee & Baileys Irish Cream Liquor with whipped cream
Hot Chocolate ~ Topped with whipped cream
Hot Apple Cider ~ Garnished with a mini candy cane