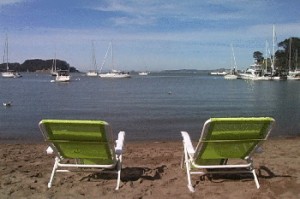 Hike, bike, or hit the beach in the middle of San Francisco Bay with a weekend day trip to Angel Island State Park  – AKA:  Paradise.  Considered time and again as one of the best Bay Area day trips – your Bay Area paradise island getaway begins with a ride on the award winning Angel Island Tiburon Ferry, which has been named as one of California's "Top 8 Ferry Rides" by Sunset Magazine, and recently acknowledged as an award winning "Local Attraction" by the Marin Magazine's 2013 Editor's Choice Awards.
From indulging your senses on fresh fare at Angel Island Cafe and Cantina, to sightseeing on a Historic Tram ride or segue tour, to taking your workout – outside on a variety of hiking trails, weekend day trips to Angel Island State Park offers a near endless number of activities to experience.  Plus, Bay Area "resident tourists" will especially enjoy Angel Island's secluded, white sandy beaches absolutely irresistible. Naturally, all the fun begins with a ferry ride on Angel Island Ferry:
Angel Island Tiburon Ferry Weekend Ferry Schedule January – February 2014:
Angel Island Tiburon Ferry departs Tiburon dock for Ayala Cove, Angel Island State Park at:  10 a.m., 11 a.m., 1 p.m. and 3 p.m.
Return ferries to Tiburon from Angel Island State Park run at:  10:20 a.m., 11:20 a.m., 1:20 a.m., and 3:30 pm.
Starting March 1, 2014 – Angel Island Tiburon Ferry launches our "Early Spring" Tiburon Ferry Schedule – and will run ferries Wednesday through Sunday.  Click here for complete Tiburon Ferry schedule.
Current round trip fares between Tiburon and Ayala Cove, Angel Island – for your convenience, all major credit cards accepted:
| | | |
| --- | --- | --- |
| Adults (ages 13 and over) | | $13.50 |
| Children (ages 6 – 12) | | $11.50 |
| Small Children (ages 3 – 5) | | $3.50 |
| Toddlers (ages 2 and under) | | Free* |
| Bicycles | | $1.00 |
Day Trip Tip:  The town of Tiburon, CA is also a great destination for shopping, sightseeing, waterfront dining…and more.
Here's to creating your best bay area day trip experience this season ~ we look forward to seeing you on board soon ~ Captain Maggie