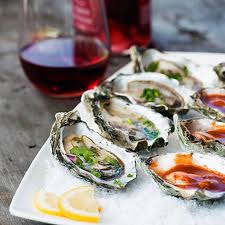 With Angel Island's pristine, secluded beaches, views of the San Francisco skyline, the Golden Gate Bridge and the vast beauty of the San Francisco Bay – Angel Island State Park offers many scenic picnic areas for you to enjoy a day trip "getaway" on the bay.
The secret to pulling together the perfect picnic is all in the planning.  It is also a fun idea to keep the whole event a surprise, which will add excitement and mystery to your rendezvous.
In addition to helping you travel to Angel Island on the Angel Island Ferry from Tiburon, CA, below are some of Captain Maggie's top tips to planning the perfect picnic menu, and pulling together the basics with ease:
Beverages:  In addition to having bottled water on hand, decide on the main beverage you will be serving such as a nice bottle of red wine or champagne.
Starters That Double as Main Fare:  For those who "like it hot" – take advantage of the BBQ's available on Angel Island to grill up your favorite meats and/or a few dozen fresh oysters (just 110 calories per dozen!), and serve them with a fresh cocktail sauce, a classic Cesar or Spinach Salad, and a loaf of crusty french bread.
For a meatier affair – prepare an assortment of finger sandwiches such as:
Chicken salad on rye
Smoked turkey and gouda on wheat
Smoked salmon, capers, and cream cheese on crostinis
You can even make ahead a few roasted veggie panini sandwiches to take along
Bring on some real Amore' – and treat your sweetie to a traditional Italian Antipasti which pairs perfectly with a nice red, and consists of an array of olives, cold meats, and hard cheeses, served with assorted crostini, breads, and crackers.
Sweet endings: A picnic is not a picnic without a few decadent desserts in the picture.  Pack chocolate covered strawberries in a totable container, a few bars of dark chocolate, and of course, brownies or some quick n' easy Skinny Fudge Having some easy to eat fresh fruit on hand is always a nice idea too.
Plan Ahead: Make sure you have your serve-ware, napkins, wet-naps, and utensils packed, and try to think ahead to include anything you may need such as a blanket or beach chairs to lounge on, and an extra sweater or jacket so you stay comfortable and cozy no matter what the weather may bring…and just remember to pack perishables in a cooler with lots of ice to keep everything fresh.
Check out a quick video on all the fun things you can do on Angel Island:
Play Captain Maggie's Island Adventures – 1 minute
Find out why Sunset Magazine calls Tiburon to Angel Island one of the "top 8 ferry rides!"
We Do Private Parties on San Francisco Bay!  Plan your own Private Charter by calling 415.435.2131 to reserve your front row seat on SF Bay today and "take a ride with us!"