August is National Family Fun Month – making this the perfect time to plan a fun family day trip to Angel Island State Park with Angel Island Tiburon Ferry…considered one of the best Bay Area day trips and "family friendly" local attractions.
No time to getaway?  No problem.  An incredible day trip is just moments away when you take a fun ferry ride on the Angel Island Tiburon Ferry to Angel Island from Tiburon, CA.
Looking to create a "win-win" this National Family Fun Month?  Angel Island State Park is known as one of the best Bay Area day trips for family fun as it offers plenty of activities to keep the kids happy…while providing parents with some much needed R&R ~ especially if your destination is one of Angel Island's sandy beaches with "million dollar" views of the San Francisco Skyline, San Francisco Bay and Golden Gate Bridge.
Make the most of your day trip to Angel Island State Park with Captain Maggie's San Francisco Bay Travel Guide tips:
There are a number of fun ongoing events offered by Angel Island State Park the entire family will enjoy such as:
Cannon Firings at Camp Reynolds
Ranger "Meet-N-Greets"
Barracks Guided Tours
Ranger Talks
Chapel or Guardhouse Museum excursions at Fort McDowell
Getting there is half the fun.  It's true.  We are told time and again – one of the best parts of visiting Angel Island State Park is getting on-board Angel Island Tiburon Ferry's scenic 10-minute ferry ride on San Francisco Bay:
Angel Island Ferry Schedule Weekdays: 10 a.m, 11 a.m., 1 p.m, & 3 p.m. with return ferries to Tiburon, CA @ 10;20 a.m., 11:20 a.m., 1:20 p.m & 3:30 p.m.
Weekends:
Angel Island Tiburon Ferry Weekend Ferry Schedule to Angel Island: 10 a.m. – 5 p.m. hourly, with a return ferry 20 minutes past the hour 10:20 a.m. – 5:20 p.m.
Where to Eat: If you're looking for the perfect family picnic spot, there are a plethora of fantastic picnic spots on Angel Island to enjoy a yummy picnic.  Charcoal BBQ grills are located near Ayala Cove (pictured left) as well (BYO BBQ and charcoal). Foodies will love the menu at Angel Island Cafe & Cantina, which offers fresh sandwiches, salads, etc. 7 days a week; and live music, fresh oysters and cold brews on weekends through September 2013.

What to Do: If adventure is your game, Angel Island State Park is your destination for family fun & outdoor activities:
Nature lovers & photographers will flip over the photo opportunities on Angel Island State Park.
History buffs will enjoy learning more about Angel Island's rich past.
Sun worshipers will find what they are looking for with a variety of sandy beaches to relax on with jaw-dropping views that can only be seen from the middle of San Francisco Bay.
Fitness buffs can take to Angel Island's hiking trails for "top of the world views" from Angel Island's Mt. Livermore; rent or bring their bikes on-board the Angel Island Ferry, or enjoy a guided segue tour of Angel Island State Park.
Everyone will learn something fascinating on an Angel Island Historic Tram Tour of Angel Island.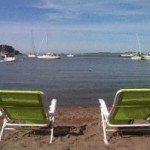 About Angel Island's Beaches:
Ayala Cove (pictured left) is the most kid-friendly beach on the island, and the easiest to get to overall.  Additional Angel Island Beaches can be accessed by foot to include Perles Beach, Quarry Beach (pictured above), Camp Reynolds Beach, and China Cove.  Access to some of the beaches may be limited at times, so do pick up a map at the Visitors Center located near the dock at Ayala Cove when you arrive, and ask about any beach and trail closures and/or updates.
Captain Maggie's "Must Have" List of Travel Essentials ~ What to Bring:
Sunscreen
Spending money for food and souvenirs
Broad rimmed hat or visor
Sunglasses
Extra water bottles
Blanket or beach chairs
Swimsuit and towels in case you want to take a dip
Also, keep in mind, the weather can change at any time so dress in layers
Feel free to give us a call @ 415.435.2131 with any questions you may have, and let us know if there is anything we can do to help you plan and enjoy your "fun family getaway" with us!
~ Captain Maggie
Also visit our main site: AngelIslandFerry.com
You may also enjoy:
Capture California adventure with a day trip to Angel Island
Current round trip fares between Tiburon and Angel Island (includes Angel Island State Park Admissions Fee):
Adults (ages 13 and over)
$13.50
Children (ages 6 – 12)
$11.50
Small Children (ages 3 – 5)
$3.50
Toddlers (ages 2 and under)
Free*
Bicycles/Beach Chairs

(Bike rentals are available on the Island seasonally).

$1.00
Directions to the Angel Island Tiburon Ferry, CA