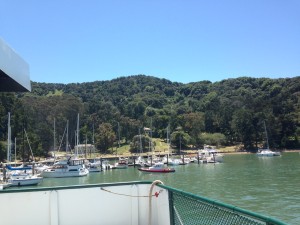 The list of fun activities you can enjoy on Angel Island State Park is practically endless. Captain Maggie & crew invites you to get onboard for a day trip in paradise where you can hike, bike, fish, BBQ and even camp overnight.
Click here for Angel Island Tiburon Ferry Schedule
Click here for directions to Angel Island Tiburon Ferry and parking info.
Planning your "Angel Island Adventure" is fun and easy, and while there are tours you can take for a fee, there are also many free activities to enjoy this paradise island with family and friends in the middle of San Francisco Bay. Angel Island State Park is host to a few (secret) white sandy beaches – all in hiking distance from the dock at Ayala Cove, and the convenient beach area at Ayala Cove is an ideal spot for families with small children.
There are a number of ways to enjoy a bite once on the island so you can either plan ahead or wing it…how much or how little planning you do is up to you. If you are looking to plan the perfect picnic in paradise…Angel Island State Park offers a few ways to enjoy a bite while taking in the sights of Angel Island and San Francisco Bay:
Angel Island State Park visitors can take advantage of the free BBQ grills in Ayala Cove and bring along all the fixings (and charcoal) for a BBQ picnic. This is a great option for a family reunion, team building event or fun friends getaway on San Francisco Bay.
Visitors are also welcome to bring along a picnic to enjoy while taking in the sights at one of Angel Island's many view spots, or on one of Angel Island State Park's million dollar view beaches.
Enjoy delicious bites at the Angel Island Cafe, or order ahead a yummy box lunch.
Angel Island Company manages bike rentals, segway tours and Historic Tram Tours.
As U.S.C.G. Certified Captain Maggie McDonogh tells us in the video below, fun & adventure seekers can also enjoy the hiking, biking, fishing and camping sites available on Angel Island State Park: