Captain Maggie McDonogh & Crew invite you to Hop on March 31, 2018 in Tiburon, California, for FREE family fun during the 2nd Annual Angel Island Spring Festival.

Don't miss the boat on Angel Island's event of the season! Enjoy any or all of the following FREE events taking place 11: 30 a.m. – 2:30 p.m. on Saturday, March, 31, 2018 (Angel Island Ferry ticket fees are in addition, which includes the entrance fee to Angel Island State Park.)
11:30 a.m. – Easter Egg Hunt

12 p.m. – 2:30 p.m. Live Music

12 p.m. – 2 p.m. – Wine Tasting

12 p.m. – 2 p.m. Beer Tasting
Plus, a special Spring Brunch menu and Angel Island Tram Tours will be available for purchase throughout the weekend.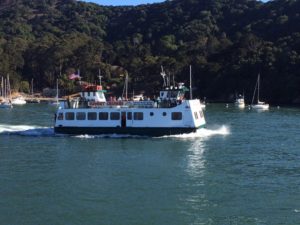 We get you there.
Angel Island – Tiburon Ferry offers round-trip ferry service to Angel Island State Park from Tiburon, California.
Angel Island – Tiburon Ferry is hosting hourly Spring Egg Hunts with fun prizes on-board the Angel Island en-route to Angel Island State Park on Sunday, April 1, 2018, from 10 a.m. – 2.p.m.
Children on-board Angel Island Ferry's first 5 (five) hourly ferry runs from Tiburon, California, to Angel Island on April 1, 2018 will have the opportunity to hunt for eggs – with a basket of toys and goodies awarded to the child who finds the "golden egg" as 1st prize. All children finding eggs will be invited to select a prize from a selection of fun toys and more. (Contents of prize baskets can vary from those pictured above.)
What to know before you go.
Plan in some time to check out our beautiful, waterfront town of Tiburon, California. You can literally walk everywhere in downtown Tiburon, California, which offers numerous waterside cafes, restaurants and fun shops to explore.
Angel Island Transportation & Tours:  Angel Island Tram Tours, segue tours, and Immigration Station Museum Shuttles are available for booking on the island as well as online here.  Angel Island visitors can also rent bikes on the island, or may bring their own bikes on-board Angel Island Ferry for just $1.oo round-trip year-round.
We hope to see YOU on-board for a boatload of Springtime fun for the whole family ~ Captain Maggie & Crew
_________________________________________________________
*For details on Angel Island's  family friendly event taking place on Saturday, March 31, 2018, please refer to highlights of the California Parks Company's press release on their 2nd Annual Angel Island Spring Festival below:
California Parks Company Announces 2nd Annual Angel Island Spring Festival
Enjoy Easter Egg Hunting, Brunch, Live Music, Free Wine Tastings and More
SAN FRANCISCO, CA (March 13, 2018) – Looking for free family fun Easter weekend in one of the most beautiful places in the San Francisco Bay Area? The California Parks Company will hosts its 2nd Annual Angel Island Spring Festival on March 31, kid-friendly activities and a little "gift" for the parents.
Taking place March 31 from 11:30 a.m. to 3 p.m., the festival kicks off with an egg hunt, where children in various age groups can win prizes if they find a golden egg. From noon to 2 p.m., adults will get their own prize in the form of complimentary wine and beer tastings—courtesy of McGrail Vineyards and Gordon Biersch—in the café, which will host a special Spring Fling menu for purchase all weekend. Innovative string band Rusty String Express band will accompany the festivities on the café deck throughout the afternoon, which will include Segway tours (buy tickets in advance or in the café) and bike rentals (first-come, first-served). For those who prefer to take in the views on foot, several hiking trails await exploration.
Guests can also be the first to experience the new, more modern tram and new audio headsets at 11:45 a.m. and 2 p.m. The narrated historic tour takes an hour, traversing the paved perimeter road of Angel Island in a new tram that seats 50. While the speakers play in English, international guests can now take advantage of new interpretive language headphones in Spanish, French, Italian and Mandarin. The tour offers spectacular views of the Golden Gate Bridge, San Francisco and Alcatraz, stopping at Battery Ledyard to take selfies with one of the most coveted vantage points. The narrator points out the fascinating stories behind historic buildings on the island, including Immigration Station, which once served as the "Ellis Island" of the San Francisco Bay area. While the festival is free, the tour costs $16.50 for adults, $15 for seniors and $10.50 for children ages 6-12. Advance tickets are recommended here, but can also be purchased at the café if spaces are available.