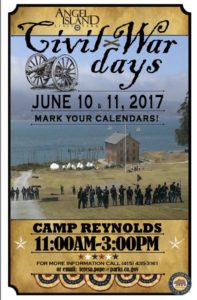 Captain Maggie & Crew invite you to take a step back in time and experience the Annual Civil War Days on Angel Island State Park on Saturday, June 10, and Sunday, June 11, 2017 .
Civil War Days will be open to the public from 10am to 3pm both Saturday and Sunday.
Start planning your Civil War Days experience now! Click here for Angel Island – Tiburon Ferry's current ferry schedule.
Click here for directions to the Angel Island – Tiburon Ferry dock, and check out ALL DAY Parking in Tiburon, California, for just $4.00 or $5.00! (Lots A, B and C)
The event will be held at Camp Reynolds, located on Angel Island State Park, which was an actual Union Army artillery encampment during the Civil War.
The event site is about one mile from the Ferry Dock at Ayala Cove and can be reached by hike, bike, or tram.
Experience what island life was like during the Civil War Days on Angel Island State Park
With the help of historic re-enactors and Park volunteers, visitors can experience the vibrant life of a busy 1860s Union Army post.
Experience Mock Battles
There will be exciting mock battles between Union and Confederate forces at 12:30pm both days, with a bonus battle on Saturday at 2pm.
Live demonstrations and hands on activities for the whole family
Get ready for family fun!  Angel Island State Park will be hosting free cannon firings, camp tours, and other demonstrations throughout the day. Visitors to Camp Reynolds can become recruits to the Union Army and try their hand at:
Baking army bread
Learning the marching drill
Discovering other skills needed on during the Civil War period
For more information about the event, contact the park at (415) 435-3161 or visit www.parks.ca.gov/angelisland.
What:             Civil War Days!
Where:          Camp Reynolds, Angel Island State Park
When:            Saturday & Sunday – June 10 & 11, 2017
Time:              11 am to 3 pm
For More:      415-435-3161
415-435-5390