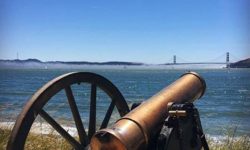 Experience an inside look at what life was like on Angel Island State Park during Annual Civil War Days THIS WEEKEND! Get there with Angel Island Ferry our of Tiburon, California.
Annual Civil War Days on Angel Island State Park offers a full line-up of fun for the whole family on June 22 and June 23, 2019, from 11 a.m. – 3 p.m. on both days to include:
*Live Mock Battles on the Parade Ground between Union and Confederate forces at 12:30 p.m on both days – with a bonus battle on Saturday at 2 p.m.
*Live Cannon firings
*Camp Tours
*Try your hand at baking army bread, learn the marching drill and soldierly skills plus much more at Camp Reynolds!
For more information and to start planning your Angel Island Civil War Days Adventure Please Visit:
https://CaptainMaggie.com