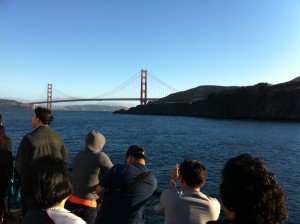 Destination:  Tiburon, California.  Angel Island Insiders will tell you, the best way to get to Angel Island State Park is by taking a 10 minute, non-stop Angel Island Ferry from Tiburon, Calif. – the "sunny side" of San Francisco Bay. Is it really sunnier in Tiburon?  Yes. In fact, historians report people from San Francisco built homes across the bay in sunny Tiburon and Belvedere in the 19th Century in order to escape San Fran's cold and fog.
Today, San Francisco and South Bay visitors to Angel Island via the Tiburon Peninsula enjoy an incredible adventure which includes a ride over the icon Golden Gate Bridge, lower cost parking, and lower ferry fares to Angel Island State Park aboard our friendly & fun Angel Island Tiburon Ferry – California's last remaining family owned and operated ferry boat service of its kind.
Click here for current Angel Island Tiburon Ferry Schedule to start planning your adventure on San Francisco Bay.
As a 5th generation Tiburon, Calif. business owner and president/CEO of The Angel Island – Tiburon Ferry Co. , U.S.C.G. Certified Captain Maggie McDonogh is an expert on both Tiburon, Calif. and Angel Island State Park – and shares her "Destination: Tiburon, Calif., Guide" with you here.  You'll discover Tiburon – Marin County's ultimate "stay & play" romantic getaway on the "sunny side" of San Francisco Bay.  Plus you'll score:
Captain Maggie's Insider's Guide on where Tiburon locals go for the best "farm-to-table" cuisine
The dish on Tiburon's hot-spots for sipping cocktails bayside
Captain Maggie's guide to the best places to stay after a day of fun in the sun – in Tiburon, Calif.
While you may never want to leave Tiburon's magical "away from everything draw," you will want to plan to spend plenty of time on the Tiburon Peninsula in order to explore Tiburon's fairytale "walk everywhere" historic bayside community with one of a kind shops, chic cafes and award winning restaurants to please every palate.
Click here to find out more about "Tiburon Art Walk" a very special Tiburon Chamber of Commerce Event happening now through 11/16/2014
So where do Tiburon locals eat?
Get into the Tiburon "local scene" by enjoying alfresco wine-ing & dining at local Tiburon hot-spots on the tip of the Tiburon Peninsula with indoor/outdoor seating such as:
Where to "Play" in Tiburon, California:
Where to "Stay" in Tiburon, California:
Lodge At Tiburon – Lodging "Nestled at the tip of the scenic Tiburon Peninsula on the San Francisco Bay." Also home to the Tiburon Tavern mentioned above.
Water's Edge Hotel – "Tiburon's only waterfront hotel" with a "walk everywhere" location a stones throw away from award winning dining and next door to Angel Island Ferry's dock.
For more information on Tiburon California please also visit:
Keep the conversation going…connect with us on Twitter and Facebook, and feel free to call us @415.435.2131 or email us at: aiferry@angelislandferry.com if we can be of service in any way or to plan your next getaway on San Francisco Bay with us!
U.S.C.G. Certified Captain Maggie McDonogh is the president & CEO of Angel Island Tiburon Ferry Co., and has recently been named the Tiburon Chamber of Commerce's "2014 Tiburon Peninsula's Business Citizen of the Year."